Hello. I voted Springfield Armory because the last several examples I've seen and shot have had very, very good slide-to-frame and slide-to-barrel fit.
I'm speaking specifically of the Mil Spec and what was once called the GI Mil Spec.
I voted for the SA pistol for a couple of other reasons as well:
1. They seem to be in the price range that many can afford, and
2. They offer a "basic no frills" pistol that can be used as is for many and is still a good "base gun" for folks who might want to customize the gun a little or a lot or in between.
(A third reason for myself is that it doesn't have those darned forward slide serrations.)
At this moment, my standard Mil Spec has roughly 3600 rounds through it and the gun has yet to malfunction. Normally, it was cleaned after every range session whether 100 or 300 rounds were fired. I did shoot it w/o internal cleaning for 700 shots before I couldn't stand it any longer and cleaned it.
My particular SA Mil Spec was not altered much on the outside, but its internal parts were replaced and were tweaked by triggersmith, Teddy Jacobson. The trigger settled in at about 4 1/4 lbs and has remained constant.
As the sights were "on" from the factory, I have no intention of changing them.
The spur hammer used by Mr. Jacobson was bobbed and reshaped to eliminate hammer bite and I dressed down the sharp edges of the GI grip safety. For me, it is not as comfortable as a wide, fitted grip safety, but it is fine for a couple of hundred rounds at a time. Others might have no problem at all with more shots per session.
As it came from the factory, this Mil Spec grouped quite satisfactorily for me.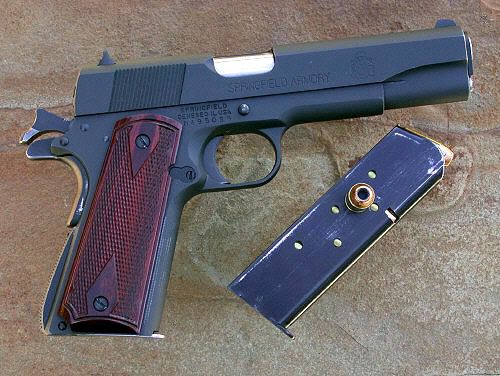 Perhaps the changing of the grips is the most visible change on this Mil Spec. This one has never malfunctioned and accuracy has proven better than expected. The only other SA 1911-type handgun I own is a lightweight 5" gun I got several years ago. The one pictures is fitted better from the factory than my older gun and does group better.
Not "Camp Perry accurate" to be sure, this is plenty good for my purposes.
Were I going to spend more at the get-go, I've had awfully good luck with STI's Trojan pistols.
Best.